0
Types of Broken Parts We Fix
Jerry's is a homegrown family owned Orange County, California business that was founded in 1963. We have been a recognized part of Santa Ana and Orange County for superior service and repair of broken taps, bolts, bits and studs.
We Disintegrate a variety of broken tooling and fasteners including but not limited to broken bolts, broken taps, broken drills, broken studs, broken spark-plug's, and broken ez-outs.
We're specialists in METAL DISINTEGRATOR MACHINING (MDM) also known as the ELECTRIC DISCHARGE MACHINE (EDM). We offer a range of EDM removal services.
The METAL DISINTEGRATOR MACHINE (MDM) (aka) ELECTRIC DISCHARGE MACHINE (EDM) was designed and manufactured specifically for removing broken tools and fasteners. Our bolt disintegration machine will remove virtually any broken bolt, broken tap, broken drill, broken spark-plug, broken stud. Our electric discharge machining service is located in Orange County California but we ship anywhere in the Untied States.
Jerry's Broken Drill and Broken Tap Removal has also developed a variety of alternative tooling and equipment for removal and repair. Jerry's offers broken bolt, tap, drill, stud repair.
We also provide expert thread repair using solid thread inserts or heli-coils. Other methods of repair are available, welding, plugging and machining.
Residential Equipment Repair
Commercial Equipment Repair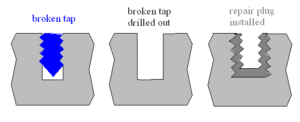 We are your last resort broken bolt, drill, tap repair shop.
Think of Jerry's before you think your part or equipment is junk, scrap or trash. After you've tried absolutely everything in the book and on the Internet to get that broken drill or tap out, after you've given it all you got, after everything has failed, after your Dad, your Grandpa, your neighbor and even Uncle Ted has tried to fix it – call Jerry's! We can fix it! We are your final destination, last resort fix it shop for broken tooling, drills, bolts and taps.
When you invest in a peice of equipment, sometimes it pays to fix it instead of junking it. When your equipment is worth it to fix instead of throwing it out, call Jerry's. If it worth more than $75 then send it to Jerry's to get it fixed.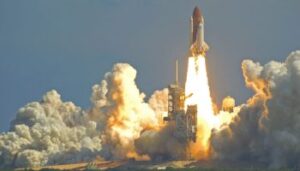 Jerry's can repair large commercial equipment such as submaries, oil rigs, airplanes, satellites, rockets and aerospace machines. You can ship the part to us or request a quote for an on site repair.
Jerry's is your broken tool and busted bolt specialist.
Our services include:
broken tap removal
seized bolt removal
broken drill bit removal
broken stud repair
broken spark plug extraction
Our ELECTRIC DISCHARGE MACHINING (EDM) is the only fast and efficient way of removing broken tools like taps, drills, and fasteners. Most commonly EDM effectivly removes broken bolts, broken drills, broken sparkplugs, broken ez outs, and broken taps.
EDM removal will penetrate any material that will conduct electricity, capable of producing blind or through holes. Broken drills, taps, easy-outs, reamers and studs can be removed from military, aircraft, commercial and automotive parts.
Broken Taps and bolts from 0-80 to 3″ diameter can be removed without damage to threads. Drills from .030 to 3″ in diameter can be removed while maintaining size and depth. Removal of Pins, fittings, bolts, bearing races and etc. can be removed without damage to surrounding material. Holes can be pierced into or thru heat treated material while holding close diameter tolerances.